Big Question Mark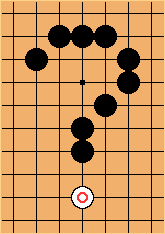 Welcome to The Big Question Mark!
In many of my games, I come up against a position where I'm sure I made a mistake or could have played better and would like to get the position reviewed by a stronger player. In many cases, this means I send the game to the Go Teaching Ladder. But what if you only have a question about one aspect of the game?
Why not ask it here, so stronger players can stop by and comment on it?
Just link to your questions below, and perhaps add your rank information so people know what sort of answer to give.
Before you know it, we'll all be 9 dans.. ;)
   -- Matt Noonan

Simple one-liner questions may be posted at quick questions instead. Technical non-go-related questions related to the SL wiki itself can be posted at wiki wizard.
---
1-100
101-200
201-300
301-400
401-500
501-600
601-700
---