BQM 375
Hi! I'm Yogenzaga 7k on KGS, and in my last game, I played like this. I was black against a 6k opponent.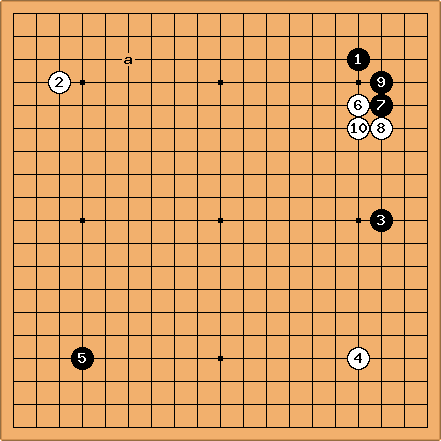 I bet white should have chosen avalanche, but that's not my point. My point is that I played

on the side, making a mini-Chinese fuseki, and treated the two remaining corners as miai. Is the a reasonable strategy, or is it flawed somehow?
Anyway, responses are much appreciated! :)
Andy Pierce: I vote for "flawed", however, I think your opponent bails you out by playing

into a pre-existing pincer rather than making a nice shimari with a.
1)

in your game is not mini-chinese formation. Your move,

is wider extension from corner by one more line to be mini-chinese formation.
2) But, assuming that your

were placed at the right point to make mini chinese formation, Yes, it's a reasonable strategy.
3) And, your bet is right. white should've chosen avalanche.
---
Alex: For reference, this is what a mini-Chinese formation actually looks like: