BQM 556
moved from elephant's eye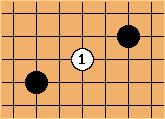 Frs: Does a Japanese, English or animal Go term exist for Black's shape or/and

?
Sebastian: How about "Mammoth"? For Chinese, I'd propose "猛傌", pronounced "mengma". (This would mean mammoth, if the second character were "獁". By replacing it with the old character for "knight in chess" - which is pronounced the same way - it now reads "fierce knight".)
It's tough to call Black connected, there, so the shape is somewhat nameless like many others... The potential use for such a shape depends so much on the surrounding area. Coconuts

---
Dieter: I don't think this needs a special term. One can see how this would establish a splitting attack.