4-5 point 4-3 approach inside contact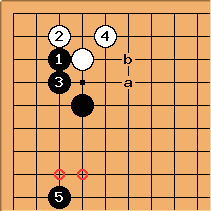 Black plays

to take up position on the side, and to keep

under some pressure.
This choice of

may give the same final result as in a 3-4 joseki (3-4 point high approach, keima); with the difference naturally that here Black starts with sente and may end with it.
That happens when White now adds a stone at a. This is an important area, so White may play tenuki now and return to it shortly, at that point or one to the right. See 4-5 point 4-3 approach inside contact, follow-ups.
Instead of

, White may on occasion extend further, to remain lighter here.

is the popular choice of extension; the other circle-marked points are also used. If Black wants to start a fight instead of extending peacefully, b is the pro choice, though this is a rare strategy.
It is possible for White to play tenuki here after

. See 4-5 point 4-3 approach inside contact, tenuki.[1]
---
Another sequence seen in pro play is the following: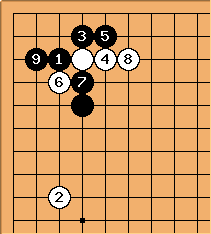 may also be played at 7 instead. The

-

exchange may be omitted.
Obviously this should only be played if

also serves as an extension.
---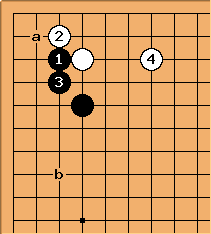 The fast paced

reverts to a pattern in the 3-4 Point High Approach. Black can play elsewhere now, because a and b are equivalent for his stability. We can see this variation in Lee Sedol - Gu Li Jubango, Game 2
---
[1]
Charles I still think this tenuki is 'quite common' (about 25% of the time) - edited out by mgoetze.