BQM 364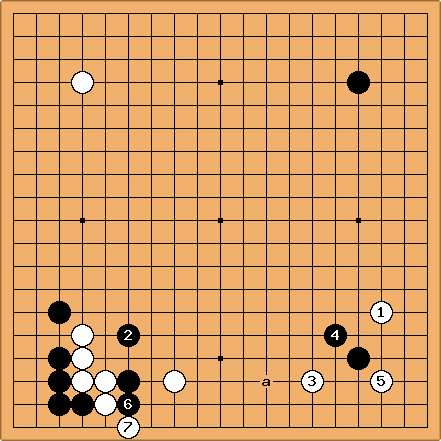 Imagist: This game record comes from Janice Kim's fifth book, The Palace of Memory. The example focuses on the shape of

(capping at the head of two stones), but the move that I find interesting is

. I can see how

is large enough to tenuki after

, but the

,

exchange seems obviously loss-making. Why exactly is

big enough to allow

?
LukeNine45: Did Black win? Maybe it wasn't big enough ;)
Chris Hayashida: Not that it matters in this case, but

is a hane and not a cap. Not answering the kakari with

is a small loss, but not as big a loss as one might think. I suspect that weakening the left side might be bigger than answering

with

and then having to respond later to a white play at a. I'll let someone stronger comment on this diagram.

xela: I'm probably not the "someone stronger" that Chris is looking for, but I did search through GoGoD and found two games in which this exact position occurs. Both games involve the same two players, same colours, and white wins one out of two!
The position after

in the top diagram is a common one, and

at

is indeed the most popular response: 57 games in my collection, but white wins 32 out of 57.

in the diagram above is a big move simply because it makes

possible. Here are the next few moves: