BQM 480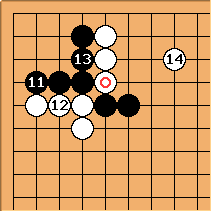 tapir: All ladders working for black. Is this reasonable so far? What next? In the game I was too hasty to handle the corner (ko-)aji so my cutting stones got attacked very seriously. How do you play against 5-4?
---
Dave: In modern pro games (6.5 komi era since 2002), White chooses to play tenuki against

below in more than half the games. When White does reply (either immediately or some time later), a is the most frequent choice followed by b. Playing c occurs in only about 4% of the games with

.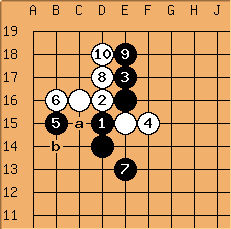 Dave: Notice

here. It is the usual play. It is oriented to the outside and will play a larger role in attacking the White cutting stones. If White plays a, Black answers with b and

is in just the right place. Basically White needs a special reason to play like this. The cutting stones are weak unless there is support in the surrounding area and the corner aji is bad. It is easy to have this whole line turn out to be an overplay by White.
tapir: It wasn't my plan to make a carpenter square, but after

(in the 1st diagram) there was no other way imo. Is the same happening in the pro games? Can you show an example? (Where the carpenter don't lose the game :))