Slow
---
Example of the first kind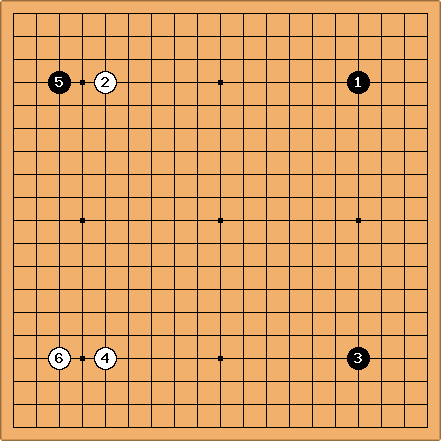 (From Now I Would Play This Way: Go Seigen looks back at 18 games (Go Seigen: Omoide no 18 Kyoku: Ima Nara Ko Utsu), game 14, p. 205)
Go Seigen says that

"was a little slow". His recommended continuation follows.
Note: when evaluating the position with KataGo,

is the preferred move by small margins. It's not slow by KataGo's standards.
Black plays

instead of responding in the top left corner to get some work out of his nirensei.
Note: KataGo believes that after

Black should invade at A or B in the lower left.

here is losing 7-8% and about 1 point.
Let me try to explain a bit. The shimari in the bottom left corner does nothing to address Black's nirensei. White's play in the top left corner does, because the normal joseki continuation gives White an extension on the top side, which thwarts Black's normal development from the nirensei. Therefore Black does not play the usual joseki, but extends to the top side, anyway. At this point, the top right corner becomes urgent. (Although Go Seigen does not discuss the play, I expect that the wariuchi on the right would be slow, too.)
---
Example of the second kind

was popular among Japanese pros around 1970 and earlier, but went out of favor for being too slow. Current professional assessment is better informed than it was then, but the move may still make a comeback. It is too early to say that it is too ineffective. However, regardless of its efficacy, the kosumi is slow.
At least one high-dan professional teaching in the USA regards

as proper play, not slow. It is a solid, valuable, dual-purpose play that both prepares to enter the corner and gets White's head out into the center. The two space jump needs backup on the right so that it can be coverted from an escaping play into an attacking/splitting play. See the section entitled Problem 38 Solutions in Whole Board Thinking in Joseki.
The choice for White is often between

and a. In teaching games, the professional has played at b in response to

. These are quotes regarding the move

:
"This move is good for defense but Black must be aggressive here." (Black should have played a two space jump at a.)
"This move isnt good for defense. What is proper?" (Black had played a two space jump, a, when the kosumi was needed.)
"good defense".
Example 2 of the second kind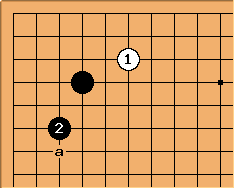 Before Go Seigen proved the virtues of

, it was regarded as too slow. The ogeima reply at a was usual.
Though the keima is preferred today, it is slow.
---
See also