BQM 284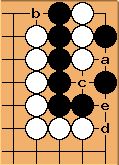 The problem is taken from gobase.org (Korean Problem Academy, Level 2, Problem 11). The solution is at a.
However, I think Black can tenuki now. Black only needs to play at a after White plays at b (seki results) or c (black alive). Am I missing something?
Agro1986 - 16k KGS
pwaldron: I think so. White d forces Black e, then if White plays a, Black can't squeeze at c because he's short of liberties.
tderz: pwaldron, you mean that you ''disagree', correct?
After all, you reason that Black dies, if White moves now to d.
Hence, excluding special game-depending sequences (i.e. first black d or b), Black should play himself now a.
If White doesn't react/forces with d, Black can play the endgame dff himself. Both players should not and won't miss the point d.


Black e - white d - Black a is also thinkable, but IMO bad style.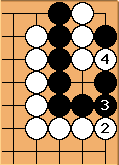 LukeNine45: If black tenukis, he dies unconditionally. This is the sequence in question, right?
Oh, I just re-read and realized that pwaldron's "I think so" was in reference to "Am I missing something?". Gotcha.
Agro1986: Aaaah, that was really insighful. To think of it, I remember someone giving me a tsumego with

killing technique as the solution (and I got it wrong). Any name for this killing technique?