BQM77
Dieter: It appears that this is a new move, leading to familiar joseki. My question is: what's the purpose ?
If

, will White tenuki and keep a in reserve or play it ?
If

here,

leads to the large avalanche. So is it a way to force the large avalanche joseki and avoid the small one ?
Dave This is the correct interpretation. I saw this explained in a professional commentary on Japanese television. The actual line that White is trying to avoid here is the following.
In situations where White is not happy to let Black avoid the fight by the quiet connection at

...
White would settle for something like this.
---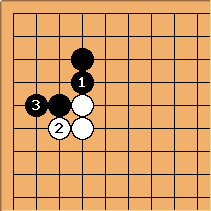 Charles Matthews This is more like joseki: White has a chance to play tenuki after

. So, White's purpose may be: tenuki or the avalanche variation. Which is fine if you are Go Seigen ...