BQM 312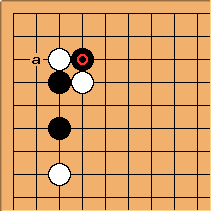 The following position came up. I botched it, badly, and won when my opponent made a seriously odd mistake, letting me kill him when he could have won, easily.
Assuming the ladder doesn't work, how to respond to the cross cut here?
Bill: How did you play? And which ladder are you talking about?
zinger: Who's turn is it? That will make a difference in the analysis :)
Lynx: It is W's turn. I ataried it down then extended.
Calvin: There is a "sometimes" joseki for the one space low pincer to the star point where black attaches at the 3-4 rather than invading. Then, after white hanes, black hanes at a rather than playing the cross-cut of

. So if the cross-cut is an error locally, perhaps the punishment can be seen by understanding the joseki move.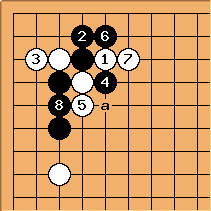 I get very lucky and kill the B group on the left(!).

Bill: Thanks, Lynx. I guess the ladder you meant is the one starting at 'a'.
And as the play went,

@

looks good.
---
pwaldron?: I'll go out on a limb here and assume that it is White to play. Anyone giving his opponent two moves in a row in a position like this deserves whatever happens. I'm not sure that this is established joseki, but several sequences have shown up in pro play. White has three basic choices, depending on which way he would like to develop.
---
Bill: Oops! I think I had a brainstorm. ;-)