BQM 378
---
Korlon: This looks very like the 4 5 joseki where black starts off on the 4 5 then white goes to the 3 3 point and black attaches on the outside.
In this case, black 3 is not a recommended move because it does not give as great of a result as the other josekis due to white 4. Afterwards, black can play at a or b, with a being a huge mistake, and b being ok.
Black plays b and white will play at a. Black cuts at c or d and white gets a ponnuki on the side or in the corner.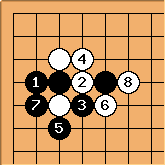 If black does play at a, then (white will play at b and) black will invariably atari on one side and white captures a black stone in a ladder if the ladder's good.
RNGS: Question - is there a mistake in the above sentence? seems like black and white are reversed somehow? otherwise i'm just having trouble visualizing why black a is a "huge mistake"...
JoelR: I added the bit in brackets. I think what OP means is that Black will atari

. (Perhaps they can do no better?) White can set up a ladder in either case. If the ladder across the board doesn't work for White, Black will play the inside atari. If the outside ladder is good for White, then Black can choose the outside atari, but this still looks terrible for Black, who played in the corner first. Hence, the descent is not good.