BQM 603
bugcat: Do we have any information relating to this position?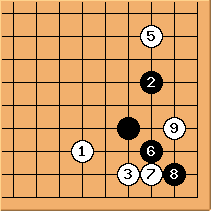 Last night I watched BenKyo lecture on it, and on related variations, for 15 mins on Twitch

here (from 2hr 46m).
I couldn't find anything using the diagram search.
Herman: There's material on several variations after

at 44PointTraditionalSlideJoseki#toc8, including this one.
bugcat: Thank you Herman, much appreciated.
Dieter: btw have you tried the binocular icon on the diagram you created? if next you reduce the search region to the rectangle convoluting the stones, you get mutiple resuts, like Herman's. See also

find board positions