BQM 477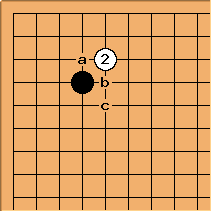 What happens to contact plays at 5-3?
I saw this for the first time in my games, and do not know a thing about it. Searches in Kogo's Joseki Dictionary and sensei's revealed nothing too!
R - Could have something to do with an a-b-c kind of exchange as pros don't like getting haned like that? Or maybe because B can simply tenuki?
Harleqin: There has to be a really very good reason to tenuki a shoulder hit, locally the difference from who moves next is HUGE. I mean HUUUGE. Just imagine a white play at 'a'. Should I get confronted with this situation in a casual game I most likely will play 'a' without thinking. In a tournament game I will likely think a few seconds, then play 'a' anyway. White definitely should not answer at 'b' because black 'c' is a major pain in the shape (that has nothing to do with being a pro). The original shoulder hit in this diagram is usually a very bad move unless necessary for sabaki when heavily outnumbered. The same holds for the shoulder hit at the top of this page.
Charles That's not a shoulder hit, nor even a proper contact play.
tapir: The 4-4 point stone is the shoulder hit - and white "tenukied" on it.