BQM 187
Chris Hayashida: I was playing a nine-stone teaching game, and I ended up with this situation in the lower right. I was already way ahead. I was trying to teach how to kill an invasion by taking away the eyespace from the outside, and I realized that the corner invasion got much more complicated that I had previously thought. It looks like it could live, and I wasn't ready to go through the variations with a beginner and confuse the issue.
---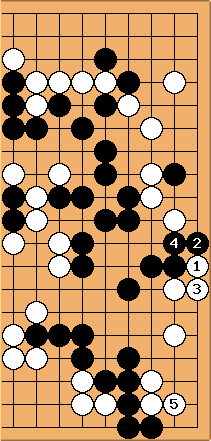 In my reading ... White can live by playing these moves. But I'm not sure if these moves are best way to live.
---
---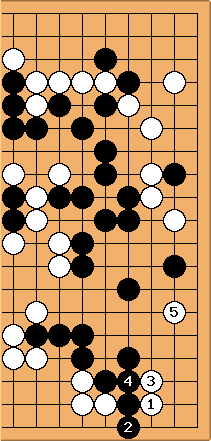 Bill: How about this?
I have played around with it a little bit, and think that maybe White can get a ko. Difficult, though. ;-)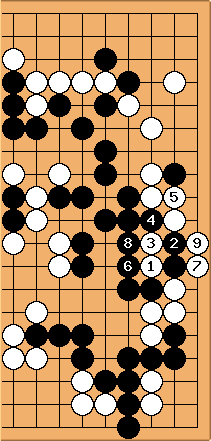 dnerra This seems better than ko:
Chris Hayashida: I'm glad to see that this position merited further study. It was deeper than I could read offhand, and definitely deeper than I wanted to go through with a beginner (since it would take away from the "thesis" of the lesson, to connect together.) Thank you all for your comments.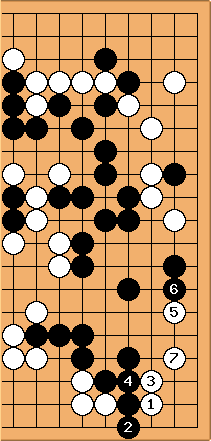 Bill: But wait! There's more! If

, now

.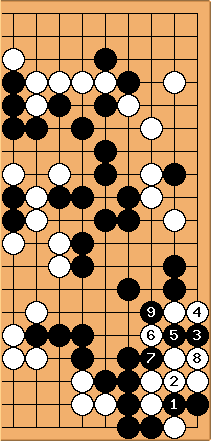 at

.

holds White to one eye here.

makes a snapback. Then Black may try

-

to make the second eye false, but

prevails.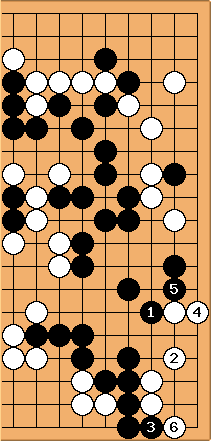 From the above,

looks like a key point. But after

,

threatens to connect underneath. If

prevents that,

offers the ko.


---