BQM 474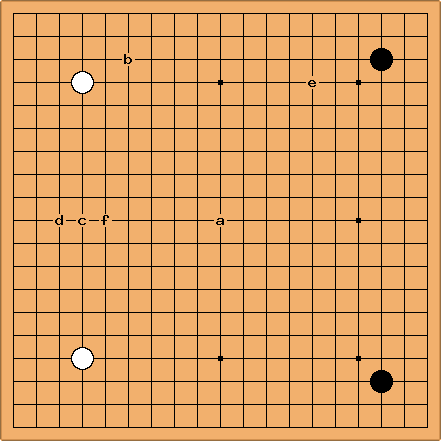 Tapir: The local (SL) database has only a next from famous shinfuseki experiments. In games i tried everything from b to e. Even if i usually don't play e instantly I often get impressive frameworks despite starting with sansan. I only tried it in blitz games though.
Bob McGuigan: the 3-3 point move is low and territorial. It is hard to build a moyo based on 3-3 point stones. It is important to be consistent in the opening so I think the best plays for Black now are at b and d. In a 1998 game betyween Yoda (B) and Takemiya (W) Yoda played the approach move at b. Again in 1998 in a game between Cho Chikun (B) and Hane Naoki (W) Cho played the move at d. Both of these games were found on GoBase. Checking over some 25 games from GoBase with a two-star-point vs. two san-san opening, in most of the games the two san-san moves were made by White. In the few with Black playing the san-san moves, only the approach move and low move in the middle of the left side were played next by Black.
tapir: There is a page here on SL (ShinFusekiHo). Quote "Yasunaga says that it is obvious that a move to counter or negate the influence of the two white hoshis must be on the axis A10-T10. But tengen is wrong. It should be at f." I wonder a bit about those two concepts - balance and consistence. Should I go for influence if I'm behind in influence or should I continue to play low and territorial moves because I started with sansan?