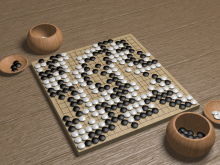 Sensei's Library is a collaborative web site about and around the game of Go (also called Igo, Weiqi, or Baduk). It is a repository, a discussion medium, it is the pot of Go(ld) at the end of the rainbow! SL is whatever you make of it.
Quick Search:

See Find Page for more options or start searching diagrams.
New to Go?

Find out What Go Is, visit the Pages for Beginners or go straight to the Beginner Study Section.
Looking for Go information?

Go to the Reference Section or other Starting Points.
Lost on Sensei's Library?

If you have any questions, don't hesitate to enter them in the Quick Questions or message board pages.
Contribute!

Anyone (and we mean anyone) can add or edit pages. There is no requirement to register a username / password.
Learn how to use Sensei's Library and try it out in the SandBox.
Here's some things that you could contribute to Sensei's Library:
Article of the Month: Archive - Upcoming - Nominations - About
Article of the Week
November 17 - 24, 2021

The Argentine Go Association was founded in September 1971.

The association promotes the game of go in Argentina, organizes tournaments, congresses and courses, maintains the national rating system, selects representatives to international tournaments, acts as a central organizer of activities among the different go clubs in Argentina and coordinates activities and communications with other National and International Go Associations.

As of November 2021, there are more than 100 members of the AAGo, and there are 21 go clubs recognized by AAGo in different parts of Argentina.

 
read more...
Right now Sensei's Library contains 24455 pages.
29 pages edited during the last 24 hours.