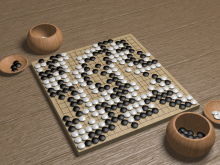 Sensei's Library is a collaborative web site about and around the game of Go (also called Igo, Weiqi, or Baduk). It is a repository, a discussion medium, it is the pot of Go(ld) at the end of the rainbow! SL is whatever you make of it.
Quick Search:

See Find Page for more options or start searching diagrams.
New to Go?

Find out What Go Is, visit the Pages for Beginners or go straight to the Beginner Study Section.
Looking for Go information?

Go to the Reference Section or other Starting Points.
Lost on Sensei's Library?

If you have any questions, don't hesitate to enter them in the Quick Questions or message board pages.
Contribute!

Anyone (and we mean anyone) can add or edit pages. There is no requirement to register a username / password.
Learn how to use Sensei's Library and try it out in the SandBox.
Here's some things that you could contribute to Sensei's Library:
Article of the Month: Archive - Upcoming - Nominations - About
Article of the Week
June 20 - 26, 2022

Dieter's first set of multiple choice problems drawn from his own games. There are 151 questions, most of them with solution pages. Each position has three options: Dieter's move (a mistake), another worse mistake, and KataGo's selection.

 
read more...
Right now Sensei's Library contains 24933 pages.
5 pages edited during the last 24 hours.