BQM 481
I (NelsonHeber) was playing a friend and we got into a very interesting situation.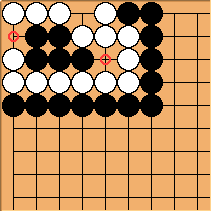 It wasn't exactly like this, but you get the idea.
Whichever of us played in one of the marked spots would have lost. We finished the rest of the board besides this corner. It was my contention that the black stones were dead, since they were effectively cut off from their friends. It was his turn at this point as well. He, however felt neither could really be considered dead. What is the answer? How is this situation decided?
Paul Clarke: In the position you show, White can play the two circled points and capture the Black stones. Black doesn't have any way to prevent this, so the Black stones are dead. Was the situation actually more like the one shown below?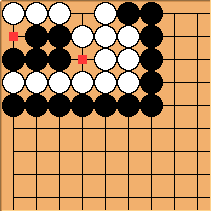 Now if either side plays at one of the points marked with a square they will be playing themselves into atari. In this case all of the stones are alive in seki.
Yeah --- you are right. It was more like that. Right after I created this page, I learned about seki. I haven't played in a long time. Right now I'm in Iraq and I just got a go board and taught some other soldiers how to play. So I apologize in advance if I post questions with very obvious answers.