BQM 149
In-game life and death query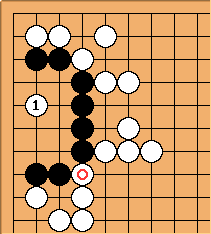 Rich: In a game last night, I managed to play

in sente; my opponent thought a group that big (10-12 pts) must be able to live - until I played

.
Did black have a chance at this point? We played it out and couldn't see anything; is 1 also the vital point for black?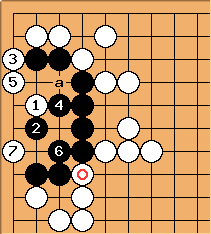 Hans: Black seems to die. The only chance for black is to connect at a instead of

and put all his hopes on a seki.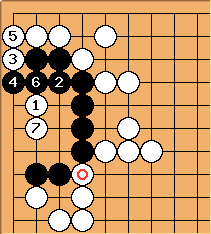 Hans: May be this is a seki. Later I may have more time to examine this.
Rich: Interesting position; I keep coming up with death by rabbit, though...

Dave: This , is conceptually incorrect I think. After White is short of liberties. Black has time to live at a.

Dave: Instead does simply kill Black?
f3etoiles No, this dies too :
unkx80: However, it is not known what happens when Black plays at a...
---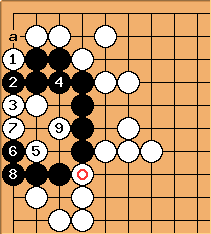 Dieter: Here Black dies either by being cut or rabbity six. But if

at a he lives. I keep reading.