BQM 146
I (1k) had this position as White yesterday. How should I continue?
It seems to me that when Black plays this way there is a weakness in his lower-left corner, so I don't want to make it too easy for him to patch it up.
Matthew Woodcraft
Dave The first thing to realize is that White also has a well understood weakness here at a. When Black plays instead of invading White should be thinking in terms of who ends up better rather than whether one Black weakness is covered or not. If play continues through 5, for example, White's weakness at a has been protected while the bottom side still open at b. White has sente.
---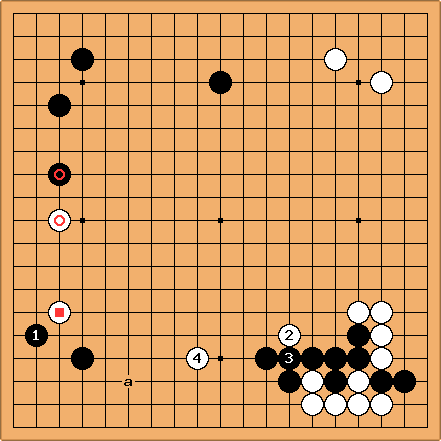 Bill: On the left side you can regard

-

and

-

as kikashi pairs and treat that area lightly. How about

-

to make Black heavy, and then attack with

?
White has a possible follow-up at a.
---
Thank you, both of you. Matthew Woodcraft
---
See also: