BQM 413
What is the alien symbol?
See Learn to Play Go: Volume IV: Battle Strategies by Janice Kim and Jeong Soo-hyun pp. 95-7.
According to the book, the alien symbol is an (ancient?) piece of extraterrestrial Go knowledge. (Presumably passed down in secret through the generations.) It is explicitly given as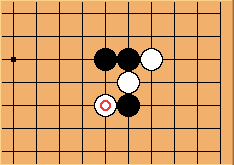 and may, or may not, have been sighted in numerous crop circles.
The marked stone is often useful in capturing stones, or otherwise disrupting Black by preventing a bamboo joint.