BQM 237
This game was adjourned because we couldn't agree on the score.
---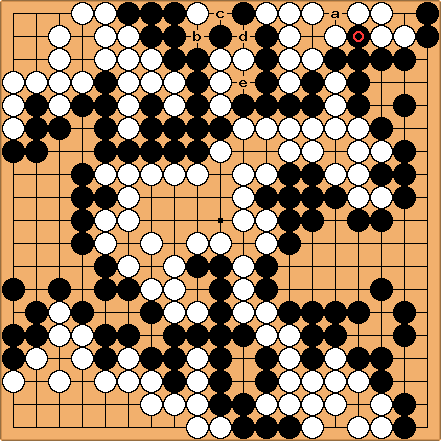 I contend that P19 (a) is false, and therefore, that white group is dead. He kept on trying to kill my M18 group. I really think I'm right... They say this goes to an arbiter, but I gotta know, Am I right? I can easily kill any stones he plays in b, c, d, or e, and I sure don't see a snap-back.
(Language barrier prevented talking it through)
Andrew Grant: Yes, of course you're right. White has only one true eye, and as you say, you can capture anything he throws in.

Thanks
zinger: Well, even if black concedes that white is alive up there (which is silly, or course) he is still ahead by a fair bit. You could have just agreed with him and got the win :)
NickGeorge: Right, but here's the silly part: in this person's mind, that group being alive meant the black group just to the left of it was dead, along with those two loose stones. This is such nonsense that I'm starting to wonder if this was some kind of escapism. How long does it take for an IGS arbiter to rule?
Andrew Grant: This is silly. Even if White's group were alive (if for instance the marked black stone were white), the black group to its left would still be alive. I can only assume that your opponent either doesn't understand Go or is trying to win by underhand methods. Unfortunately there's a lot of this about on the Go servers. Maybe your opponent learnt Go on Yahoo.
DrStraw: Why not resume the game and physically capture? There is a loss of a few points but the game is still won.
NickGeorge: I didn't know how to do that in IGS... how's it done?
zinger: I don't know the answer to that either. Also, I would say that under the circumstances, the most likely explanation for your opponents' actions is that he is being dishonest in a attempt to avoid losing the game. It's hard to imagine that any player capable of finishing a 19x19 game could really think that those black stones are dead.