BQM101
Dieter: It's only when a tenacious club member starts to question that you realize you don't fully understand what's going on.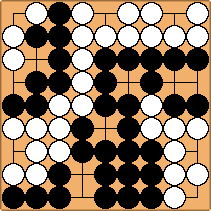 No prisoners. Both players have passed.[1] If I understand correctly, the Japanese rules determine positions with the rule that plays elsewhere count as a "pass for the ko involved" and do not count within the demonstration. As such, the upper left is seki. If it is White's turn she can turn it into seki. White cannot claim to have captured the corner, for ...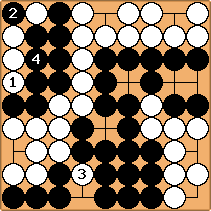 ...

counts as a pass for the upper left ko and the ko-threat doesn't gain anything due to demonstration mode. Black captures at

and frustrates White's claim.

On the other hand, Black can't claim any point either, for ...
---
Two questions:
Is the above interpretation of Japanese rules correct ?
How will this situation be handled in Chinese rules ?
---
Bill: The interpretation is not correct. In the Japanese encore a play does not substitute for a pass for a ko. In the second diagram, Black can reply to

, because White cannot then take the ko back, not having passed for it.
The assessment of the position is sort of correct, however. After play has ceased, the top left corner is seki.
But somebody made a mistake.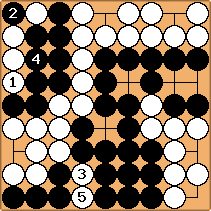 White could have won by making the ko. Or Black could have prevented that by a play at 3 or 5.
If the players discover this effective play and hence cannot agree to end the game, they both lose.
Or (much better), White requests a resumption of the game, Black makes a play at 3 or 5, and the result is jigo.

As for Chinese rules, I believe that the top left corner is seki, unless the ko is played. In the seki, White gets a point at the 1-1.
---
[1] Bill: But have they agreed on the status of the groups? Apparently not.
Dieter: Thanks a lot Bill. Indeed we agreed it was a mistake to cease play. I forgot about the "both lose" rule.