BQM537
Tapir: This was moved from the Systematic Joseki project. The question raised is legitimate and probably this is one prime example of the bad habit of having strong opinions while lacking the understanding among amateurs (the further extension looks certainly always better as long as one is never confronted with follow ups invading it). So to reformulate the question: How bad is it?
Summary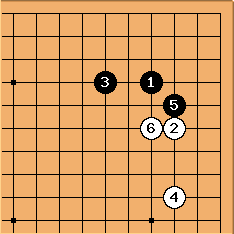 In beginners' books 4 is usually described as an error, leading to overconcentrated shape. However, things are not so clear, as White can still invade the corner at san-san.
I feel the invasion sequence should be included here.
unkx80: Sometimes the exchange of

and

is not played. While the exchange makes White overconcentrated,

is indeed a very strong move towards the center.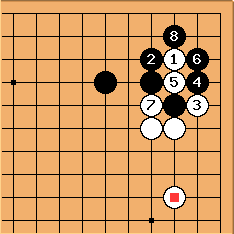 Rich: There's some aji, but not enough to compensate. As long as black's stones remain fairly stable, it's an endgame play, not a corner invasion: Black keeps the corner. This, according to all professional opinion I've ever read, is not a joseki; it is why if white intends to play the marked stone, she should always play at the 4-2 point first.