BQM45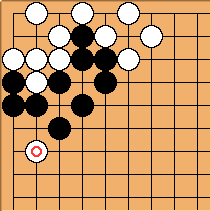 Here's a question I had. I got into this mess in a game and didn't know how to respond to

. I have an enclosure in the bottom left, if that helps, and there are no other stones on the left.
-AndrewB
---
lavalyn: Black is certainly alive.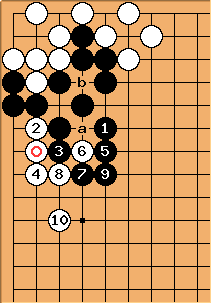 Alive but very passive: two eyes, at a and b. But White is developing (small, but not insignificant) on the left.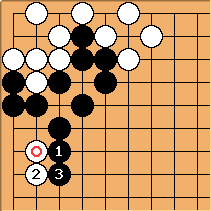 White remains low and undeveloped while Black develops thickness and an escape to the centre. Black, while nearly certain to live, cannot be considered unconditionally alive yet (the infinite pass definition).
Given the proximity to the black thickness,

would likely have been treated as kikashi however, seeking this kind of response. If the top was big this may have been playable for White.
---
DaveSigaty: We need to understand that the original white play threatens nothing. Black's thickness at the top is overwhelming. Black need not answer locally. Black should be looking across the whole board to find his next play.
Dieter abundantly agrees.