BQM190
(Brent) This position arose in one of my recent games on DGS. (I've already written about it a little bit in my go blog.) I was playing white, and had let my corner get cut off from the rest of my stones -- probably a mistake, but I thought it could still live without much trouble. This is the sequence of moves that was made: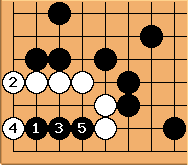 My question is twofold -- first, what is the status of the white group? (My best guess is ko or seki, but I can never be sure I've thought of all possible branches.) And if it is not unconditionally alive, was there a better way to defend against the invasion?
Thanks for your thoughts!


Chris Hayashida: I don't know about the above group, but it seems like

was a mistake.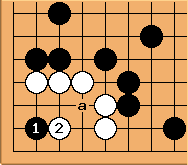 Chris Hayashida: I like this move, as it protects a possible eye at a. However, I think Black played

too early, as White has many outside liberties. The capturing races I played out seem to have White winning, but semeai aren't my strong point. I'll leave someone stronger to comment on the life and death of your diagram.