BQM 108
kokiri : I played a 3 stone handicap game against a British 2 Dan this weekend and the following sequence came up: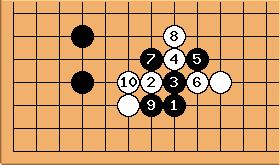 Low Invasion Of Mixed Three Space Extension describes white's response as aggressive and the continuation seems obvious enough...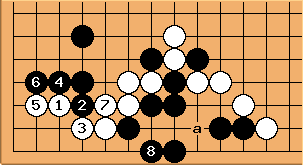 ...after white plays a bit in the corner, I get to play at

and leave a dead shape (at the time, I read white at a as seki, but it appears to kill). there is some room for counterplay on both sides, but this still seems pretty poor for black.
unkx80:

at a lives.
---
This sort of invasion must be common, and one which, as a supposed 2kyu, I ought to know but from Get strong at Invading and other sources I can only find examples of the attachment shown in Low Invasion Of Mixed Three Space Extension.
Thus my question is: what went wrong?
Of course the black group on the left hand side also died later, but that is another story...
---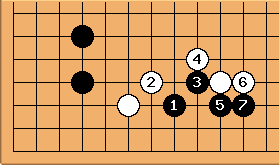 unkx80: How is this?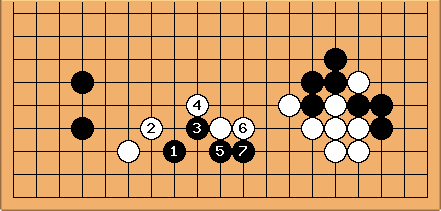 kokiri The Right hand corner was the following taisha (mis)variant, quite thick but I guess black has a workable position.


Charles Looking at pro games (not many examples), the lines used were

as suggested by unkx80, plus this idea: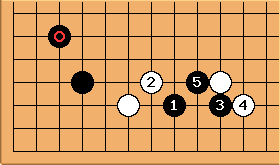 This order of moves, actually my first thought, was played in an old game by Otake Hideo, leading to a ko.
---
Bill: I'm a square zero kind of guy. I would say, as a practical matter, what went wrong was the lack of preparation. In theory there may be nothing wrong with the invasion, witness professional play. But if you are taking 3 stones, why duke it out when you have a good alternative? IOW: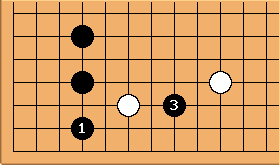 is a dual purpose move, securing the corner while preparing to invade at

. The threat is often more potent than the execution, especially against a better executioner. ;-)

Tactical notes: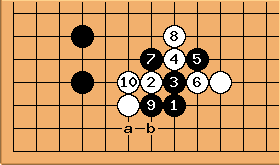 After

-

,

-

looks "obvious enough"? There is some unlearning to be done here. Black's play is heavy.

-

reduces the liberties of

and

.

-

appears to strengthen White more than Black. Then

-

strengthens White without increasing Black's liberties. However, after

-

, if Black plays at a instead of

, White can reply with

and Black cannot respond at b.