BQM72
In my last game, I decided to try something a little different to respond to keima approach. I'm sure it's wrong, but, because it worked this game, I'm not sure how. I took Black.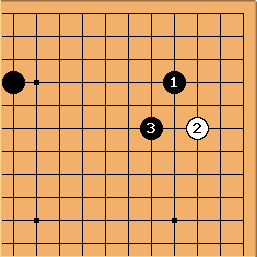 It continued like this. We are both 17 kyu level, so I doubt that either of us played the best moves. I think I confused him. Hadou Ken
HolIgor: After choosing

, Black is not going to defend the corner, so 5 is not logical.

is very bad. It kills the option of a peep from inside and does not gain anything.
---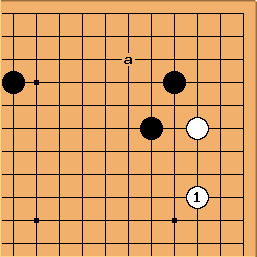 Leaving the aji at a.
---
Bill: This is playable with the stone on the top side. Good thinking! :-)
You will find it in joseki books. The following, modified to take the Black stone on the top side into account, come from the Small Joseki Dictionary by Suzuki and Kitani. (But I wouldn't worry too much about joseki until you get close to shodan.)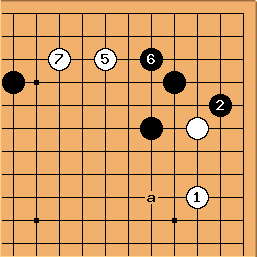 B protects the corner and puts some pressure on the white group. Later,

-

is a possible invasion.
Instead of

, Black at a is a consistent continuation.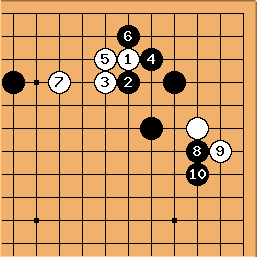 - 4 (attach-block) is the usual reply to

. After

,

protects the corner. After

Black can attack with

.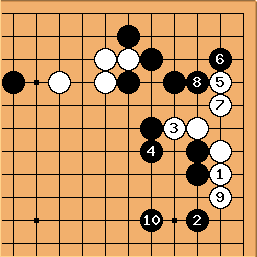 White lives, but Black is thick.
---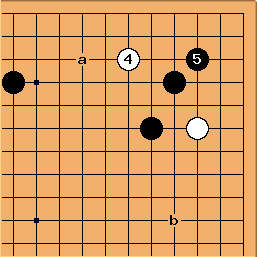 You may also consider

, occupying the corner first and making a and b miai.
---