BQM 29
Here is a question representative of the problem I usually have in the middle game. Where is the biggest move or moves, and why? Black to play. --BlueWyvern
---
---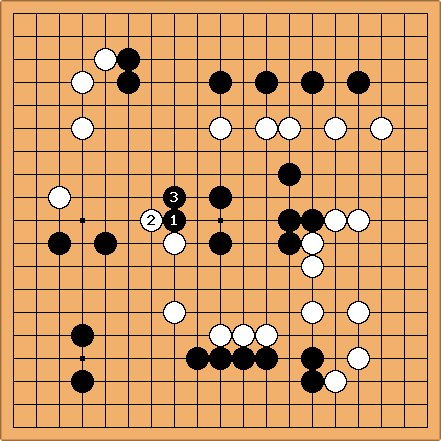 I think you have more territory than White. One the best moves I think is to settle your weak group in the middle. (See table shape.)
--unkx80

---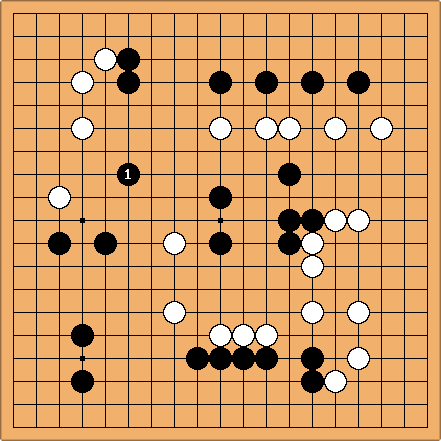 Hikaru79: I apologize if what I'm saying makes no sense, but I thought I'd chip in anyway. It seems to me that rather than trying to make life for Black in the center, running to the sides seems better.


For that reason, I would play something like

. No matter where White attacks, chances are it'll be able to connect to another group, and reduce what could have been potential white territory. Please let me know how desperatly wrong I am.
Charles An example of a loose or vague play. You can't say that

does nothing; but on the other hand you can't point to anything it specifically does. It lacks urgency, would be another way to put it.
So, it seems slack.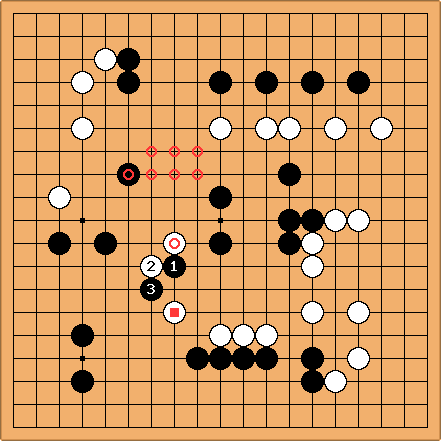 To be fair, there does seem to be a plan you can point to: cut across the two-point jump separating the

and

stones with

and

here.
This is really an idea for later, I think. It leaves Black a bit thin, and to take a serious central territory along with

Black really needs to be stronger in the region of the circled points.

Hikaru79: Thank you for the detailed explanation, Charles. :)