BQM 270
cartan: I couldn't sleep last night and remembered this little Go exercise: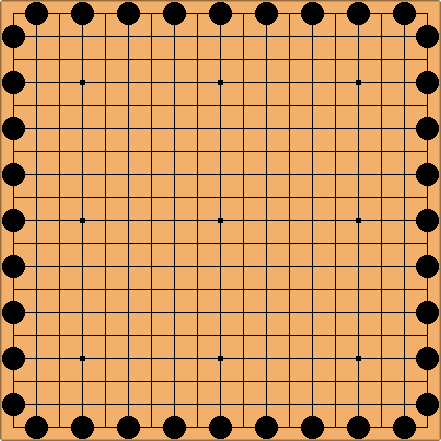 Is this discussed somewhere? Should black always win?
I made an SGF file with this position on my Pocket PC and GNU Go agreed to play white (after I added a white stone at tengen; before, it would just pass). The first time I was careless and lost, the second time I won quite easily (GNU Go passed again when all its groups were seperated and dead).
I don't remember where I read about this first, quite possibly here on SL. Playing it out was a lot of fun, and a striking illustration of the power of influence (a concept that I am just in the process of grasping).
LaTomate: I played this position once. Very instructive to practice shape I found! I don't know where this comes from either though.
tderz: some diagrams concerning this position are here already on Senseis. I cannot find them right now. Perhaps a necessity for a position searching engine on positions in Senseis?
LaTomate: I found the following: ShapeGame
cartan: Perfect, thanks. Yes, "Shape Game" is probably at least as reasonable a name for it as "Influence Exercise."