BQM 423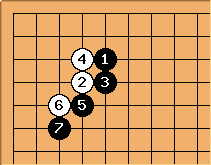 Veggieboy: This usually doesn't happen, but some people approach the 3-5 point at hoshi. Usually, I play, hoping for this. Is there a better way to punish?
Karl Knechtel:

at

seems like basic instinct, digging back into the corner and making it hard for Black to settle. In this line, White could try

at

, also a common shape idea (avoiding hane at the head of two stones).