BQM 483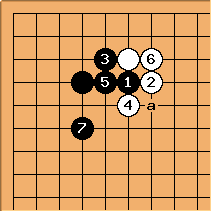 tapir: SL gives this diagram as the main variation. A search in some go database (here mastergo, but the data is basically the same in all databases) showed professional players playing

(or similar territory oriented moves) only with some support along the edge and otherwise

at a is the usual approach.
Does your database show the same result? What does it mean? (There is some discussion on the page, but i really wonder about the origin of this presentation, joseki dictionaries, personal teaching?) I even had some argument about it in the game review. If

is played most often black cutted immediately in the database search, afair.
My sources show a as the main variation. It also shows the black cut at a immediately after this .