BQM 570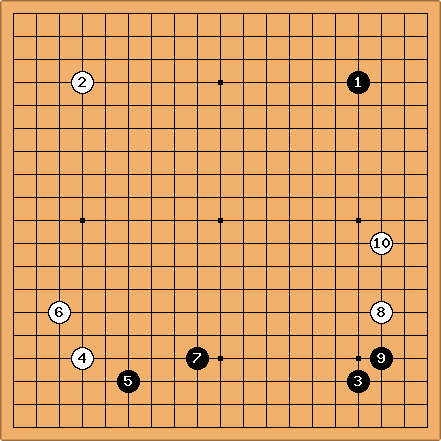 Dieter: I'd like to learn more about this fuseki pattern because it often occurs in pro games and it happens to be played against me as well. I assume this is a Kobayashi fuseki variant. The kosumi of

is described at 3,4 point distant low approach, kosumi.
Next, ...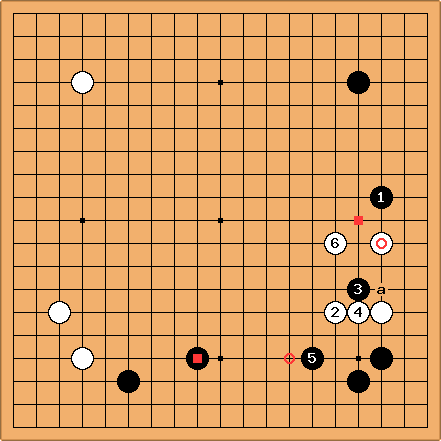 ... this is what Dinerchtein in his commentaries on go4go.net very often describes as "the usual pattern". I'd like to understand more about the peep at

. I can see it coming that thousands of amateur games will contain this "joseki move" without anyone understanding its purpose.
My ideas: if

at a instead, Black doesn't need to defend at

because a white approach there can be cut off thanks to the gap at

. In this case, both defend. Question: what happens if

is left out ?
Charles Well, first, I guess

at the circled point is more the normal idea. If we are talking about the variation with

, that's less common than one to the right, of course. And I know more about the peep

when

is at the square-marked point.
That all being said, Sasha is talking about things 'well-known' in Korea, amongst the young pros. His commentaries assume this kind of background.
There is nothing especially mysterious here, I think. If

is forced, and there is no way to resist, then

becomes an inducing move for

. There are other examples on SL that I'll reference when I find them.[1]
Just one point, mentioned by Guo Juan when she was in London a few year ago:
It seems that

is the tactical chance to avoid being forced.[2]
---
[1]
I meant
---
[2]