BQM6
---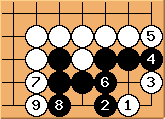 I played this in the real game. Both lived (seki).
---
---
---
There is no way Black could make two eyes in this shape, Black doesn't have enough space (only four stones on the second line). You need at least five stones on the second line to make two eyes. The only thing Black has is a ko threat.
---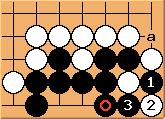 threatens to make a second eye with the throw-in

. If White captures, Black can play

. White can't connect because of a shortage of liberties.
This is because of the special properties of the corner and a good illustration of the go proverb "Strange things happen at the 1-2 point.. So, when Black plays

, White has to play at

or a if she wants to kill the group.
   -- Alain Wettach 4D (Europe)