There is Death in the Hane
This proverb, "There is death in the hane", refers to the fact that the hane on the first line is a very common method of killing groups. The main purpose of the hane is to reduce the space for making eyes.
Definition: Hane -- A single stone that "reaches around" the outside of an opposing unit diagonally, adjacent but unconnected to an existing unit. ~~ Dr. John C. Dealey
This article assumes that readers know how to prevent escape on the first line.
Example 1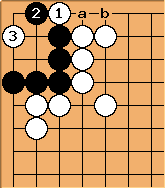 The hane at

kills the Black group with a bulky five dead shape. If Black tries to capture at a, this does not gain an eye, and White can block Black's escape at b.
Example 2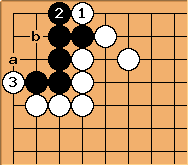 For example, this Black group (an L+1-group) can be killed with the hanes at

and

. If Black blocks at a, it will turn Black's interior space into a dead bulky five. White can then kill Black with a placement tesuji at b.
Notice that in the above examples, the hane stone is not defended when put into atari. Instead another hane or a placement follows. That is because capturing the hane stone will result in a false eye.
---
See also: