BQM 472
in a recent game i would prefer to forget... there was a j-group i tried to kill in a non-canonical way. while i see that this isn't the best way, i don't know whether there is a refutation / what the result is now.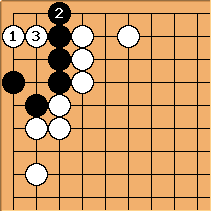 Is this even a mistake? (If the outside is cut and it is a semeai, it has more liberties, but no other difference, or am I wrong somewhere?)
---
Answer: see J-group. The order of the hane and the placement is reversible. It is considered better style though to reduce the eyespace first. If the group is revived through a ko elsewhere, then it will live with less points than if the placement is played first.