BQM581
In a recent DGS game of mine, my opponent played a truly unique fuseki whose purpose I can't see at all. Is he/she a sandbagger? A total beginner? Or simply a weirdo such as Stanley?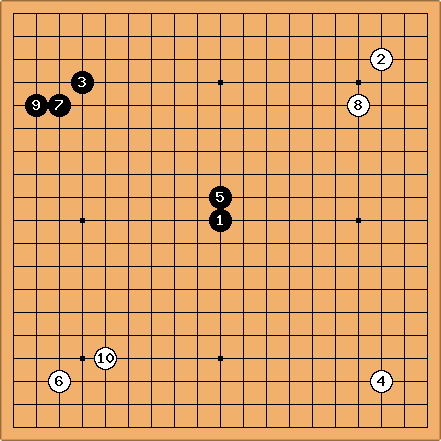 Black

. No problem, I often play this myself. But Black

already is odd since I'd expect a special strategy like a Great Wall or Mirror Go. But then

to

are completely odd, senseless, slow and overconcentrated. What do you think? How is white's play?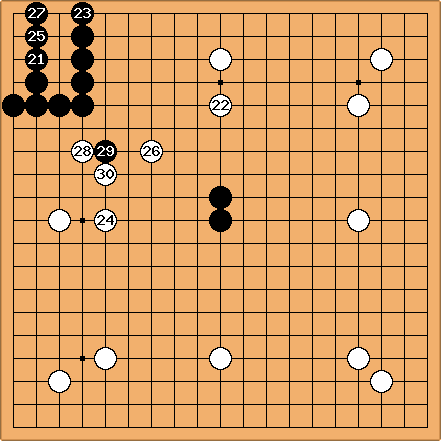 Well, with

the corner is as good as safe now. Maybe add another stone?

: Forget what I just said. With

, the fuseki ends.
emeraldemon: If the game is still in progress, maybe we should wait until it's over to offer analysis/commentary? Saying "Well sequence a-b-c looks really good now" might affect the course of the game.
firelordzuko: Okay. So, I'll just post the next moves of the fuseki till it is over.
tapir: A scared beginner (who tries to make a very safe group in the top left) after being cut into pieces by some helpful teachers before. There is nothing to ridicule about, stop the game and show him what his moves say

to

could have achieved elsewhere. (Less frustrating than playing on for another half year. Maybe offer to finish on a real time server.) Anyway,

is not odd at all and

may be inefficient but still achieves something.) Also the white strategy to counter tengen by all 3-3 points doesn't look very convincing to me, it makes it too easy to build a huge center moyo for any Black who does not care only about the top left. (He can press you down starting with a shoulder hit at the 4-4 point.)