BQM58
Trick Play after 3-3 opening?
Hi, my first contribution to Sensei's Library is a question: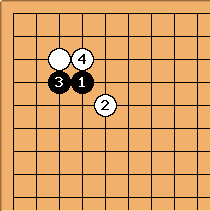 In playing a 4-4 approach (Black 1) against a 3-3 opening, I came across this response (White 2), which I did not find in Kogo's Joseki Dictionary.
Continuing with Black 3 as shown never brought a good result to me, possibly not because it's bad but because I'm a weak player (12kyu on KGS).
Therefore I wonder if White 2 is a trick play, or if I'm just not playing the correct continuation. How should Black play?
Thanks to everyone for answers/comments! -- Björn
---
Dieter: Depending on the situation, this strange move could actually work, but it is so strange that probably the situation is then so advantageous that almost any reply works and thus the 4-4 approach move is a mistake. Normally, ...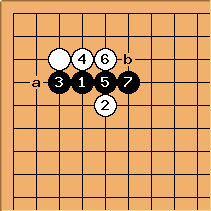 ... being split this way represents the loss of one move for White (move 2 is a wasted stone). White sure gets territory but imagine 2 at a or b instead.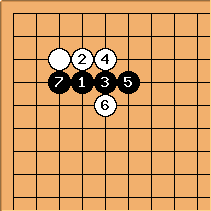 Using tewari, up to Black 5 this looks like a sensible opening. Suddenly White plays 6. Isn't this a strange move ? Wouldn't Black be in high spirits to play at 7, closing off an escape route for White ?
---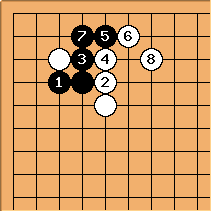 Charles Matthews I don't think White can get a good result playing as above. White 2 and 4 here are more consistent. White might be able to make a trade of the corner for useful influence. Two problems: firstly this is still a local loss, and secondly Black can choose to play 1 on the side making White's outside strength less useful.
---
Björn: Thanks for these comments! I looked at the games again, which all developed according to Dieter's diagram above, and now agree that the plays in the corner weren't bad for Black. It was Black's inability to put this wall to any use in games against a stronger player that made it look bad. By the way, the sides were typically empty except for a 4-4 stone for each player on the adjacent corners.