BQM 470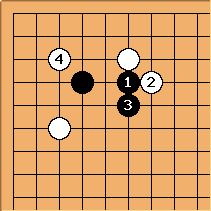 tapir: Looks like facing-handicap-with-overplay-style. Or does this end even?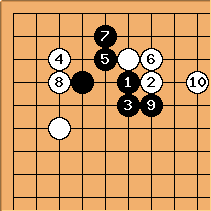 tapir: Better

at

?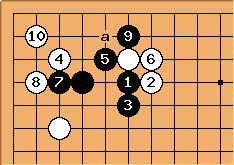 unkx80: This is joseki. tapir: Ah, so my basic instinct

wasn't wrong. White played

at a, still joseki? Andy: Sort of. Wrong move order but can revert to joseki[1].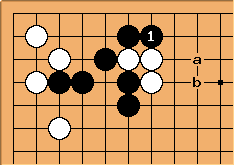 unkx80: Subsequently, if White a then Black b, and if White b then Black a.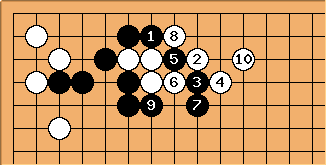 unkx80: Example sequence.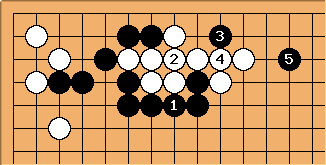 unkx80: Whether this works depends on the larger picture.
tapir: Wow. Never thought that white ends with such a pathetic (still only 0,5 eye) shape. Larger picture most probably means the top right. Any examples from professional play or so?
---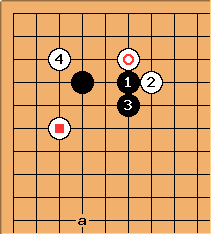 Andy: Good question. When black attaches at

, this choice of direction is presumably dictated by additional black strength around a, so black leans on

, in order to ultimately attack

.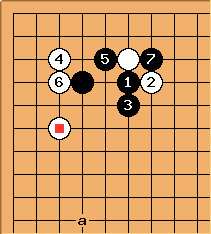 With this

, black is apparently inconsistent with the idea of going after

, but black establishes a nice position on the top.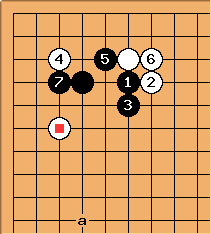 According to 38 Basic Joseki, "There are some variations in which White plays (this way - see diagram), but let's leave those, which are a bit tricky". Apparently these "tricky" sequences are the ones in question in this BQM.
tapir: Indeed :)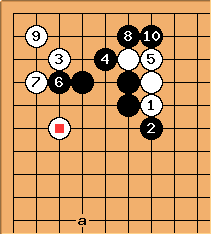 In this related sequence, white pushes once first with the

/

exchange before dodging into the corner, intending to establish something on the top side. So, black intercepts with

and

. White connects at

after

, otherwise the

/

exchange is bad. White has a burden on the right now.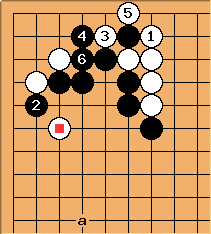 White doesn't want to connect here with

instead of protecting in the corner, because white loses the corner and black has even more influence towards the bottom than in other joseki sequences.
---
[1]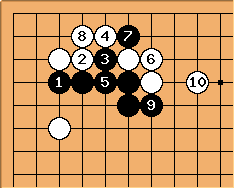 is kikashi, encouraging

so black can end in sente.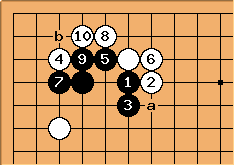 Push in with

. Lots of good moves for black now, including a and b, and not much attractive for white here.
tapir: Whose mistake in move order? Both players deviate from the other lines (this is quite similar to the game we played) - and why should this be bad for white? And is it really good for black? And if it is good, how good... Maybe one can compare with this joseki
unkx80: I would have thought that

at b is typically much larger than a as it helps Black to obtain a base...
---
See also: