BQM 410
AWA (6k): Can this White live? Ko for life does not count.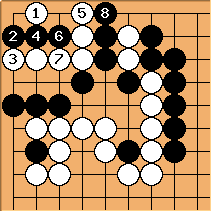 This is what was played, more or less. 8 is unneeded, but it is there to show why White is dead. Please answer! Neither I or my opponent could find life, and this is killing me (metaphorically).
Karl Knechtel: Pretty sure both that this dies, and that White's strongest resistance is shown.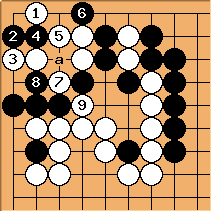 Andy Pierce: Here's a ko for white.

at a takes the ko first.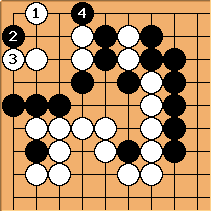 Symplicity: What if Black plays a hane directly? Seems ko-less to me now. I think.
---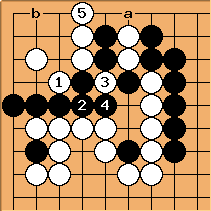 Dave: I think that if there is a way to live it must use the threat to descend at a, cutting off the Black left. How about this

,

,

? If Black stops White from living at b, can White make a fight out of it after cutting at a?