BQM 319
kb: From a KGS game. Black to move.
---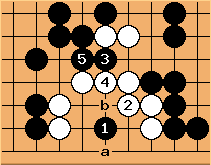 Tomas (5k):

removes the possibilty of an eye there, and after

w can no longer make two eyes.
zinger: Interesting. At first it looks like

could be at

, but then black can play a. In fact I think

at a might work. Then again white might try

at b. Anyway an interesting problem.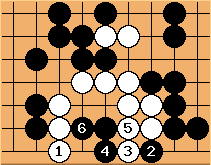 Tomas (5k): Whites attempt to make his eye large enough for seki fails.
Kichiro (16k): Wouldn't 4 on 5 make an eye for white? And give white the advantage to win the battle?
fractic: 4 is a black move in this diagram so I suppose you're talking about

in the last diagram. zinger allready suggested a in that diagram is the answer. It sets up miai to connect the stones out to either side (assuming white can't escape on the left).