BQM 402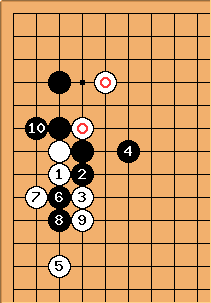 In the game Black was able to attack the marked white stones and took a huge corner. I feel several moves are not so good here. Especially

one line nearer to the corner would have been better. All ladders toward the lower right corner are favorable for Black.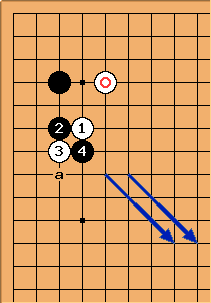 Herman Hiddema: It looks as though this situation came to be through this 5-4 joseki: 4-5 Point 4-3 Approach Keima Contact At 6-3, followed by a cross-cut. If it did not, it is a reversal and the same things apply.
So in this situation, extanding at a is a mistake.
After

, the ladder toward the lower right is very important. If the ladder is bad for white,

was probably better at

, not allowing black to cut.