BQM 498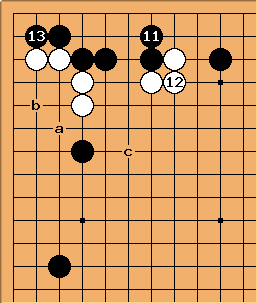 Tapir: The ladder doesn't work for white, so maybe

at

but I felt better this way.
I'm interested how to counter the ogeima in a constructive way. How do you like the idea of

and the idea of

? Black aims at a to c later.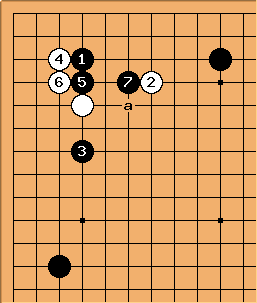 Andy: Try the butt with

? White is heavily outnumbered locally and split in half, although maybe touching

is bad.
tapir: I believe the idea behind

is: It looks well placed after

. White may even play at a now.
---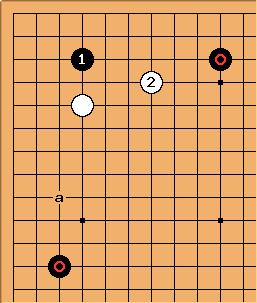 Herman: It is very hard to answer this question, because so much depends on the whole board position. How strong are the marked stones, for example?
That said, the first thing that comes to my mind is to play tenuki. There is no single move with which white can kill the black stone in the corner, and the position of the marked stones makes it hard to do much with any influence that white can get.
An idea that builds on that is to play

at a. With an additional stone there, it will be really hard for white to build anything at all.
tapir: I can give the whole board. But as I wanted comments about this corner I tried to omit what is less related. The ladder (to capture the 8-4 point) would not work for white. Black is reasonably strong on both sides. (It was a 2 stone handicap game and black had both NE and SW corners already.) The next white formations are on the lower edge and on the right edge but nothing on top and left side.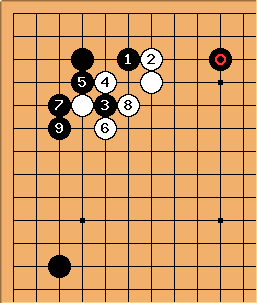 Herman: Here is another idea. Black takes a big corner, while giving white influence along the top side. This is very playable, as long as the marked stone is not too weak.