LukeNine45
Real name: Daniel Smith.
You can play with me in person at the Schaumburg Go Club! Go is much more fun in person!
This is a talk I can often be heard giving to beginners at the club: How To Attack
I have coined a term for a well known tesuji for which I am not aware of a name. Use the Panda Tesuji to eat through Bamboo Joints...
---
Mini Go Progress Report:
9/26/09 Tourny @ UIC again. 3-2 as a 1k. Screwed up a 100+ point kill in one game. I feel good about my go at the moment, thinking about deciding to be 1d.
06/20/09 Quarterly tournament @ UIC. 2-3 as a 1k (One loss to a severely under-ranked opponent). I guess I will actually have to study if I wish to progress...
03/14/09 (

Pi day!): 2-2 as 1k at Chicago quarterly tournament. I guess I am a very average 1k, judging from my past three tournaments.
kb: Pi day. I can't believe I pay taxes for this.
12/07/08: 2-2 as 1k at All Iowa tournament.
kb: Fun game against you at the tournament, Daniel!
11/22/08: 2-2 at Chicago quarterly tournament. I self promoted to 1k, as my previous 4-0 raised my rating only .1 stones, and I couldn't handle the stress of trying to go 4-0 for a *third* time in a row. My play got worse as the day went on. Next time I'll eat something for lunch... :) (And, btw, I really don't care anywhere near as much about my rating as one might think from reading this. I just happen to be thinking about it after tournaments, especially if the AGA ratings aren't doing what I think they should be doing...)
09/13/08: 4-0 as a 2k at the Chicago quarterly tournament. I think that will bump me up to 1k.
08/11/08: Went to Congress as a 2k. 3-3 in the US Open, 2-1 in the diehard, 3-1 self-pair. Not bad, esp. considering two of my open games were won games until I screwed up near the end. It was a blast.
07/28/08: In spite of not studying and only barely playing for 3 months I somehow went 4-0 at the Chicago quarterly tournament. I played at my official rating of 2k. Planning on going to congress!
03/08/08: 3-3 at the tourny at UIC. I played at my official AGA rating of 2k, but I think I could have entered at 1d and gotten the exact same results if I had played the same people (which I wouldn't have, of course, but that's not my point). All of my wins were easy games; two of them were against previously unrated people, one of whom entered at a rank they couldn't defend, the third win against a solidly rated 2k. Of my losses, one was against a solidly rated 2k because I played bad, one was against someone who entered as 1k but probably should have entered as 1 or 2d, and the last one against someone who (probably correctly) self-promoted to 1k: I was ahead and got lazy.
Unfortunately, to the AGA rating system, it appears that I beat a 2k, lost to a 2k, lost to a 5k, beat two unknown people and lost to an unknown person. As a result my rating didn't change much and my sigma dropped. This is very frustrating. I feel like AGA ratings are wildly inconsistent and the only way to achieve a "correct" rating is to self-promote, but TD's are reluctant to let you do that. I also feel like the 2k-1d crowd of players (at least here in Chicago) is under-ranked as a whole compared to the 2-3d players. I don't think there are any 2 or 3d players in the area who can give me the 3 or 4 stones AGA says they should. There's a 3d at club I've beaten even a couple of times.
06/02/07: I was 2 and 1 at Lakeview Go Club's Baduk on the Beach tournament. Entered at 2 kyu. Played well in the morning and was unable to read two moves ahead after lunch. Weird. Despite that I feel stronger (it's weird, a couple weeks ago playing as a 2k suddenly was a lot less work). We'll see if I can hold down 1 kyu at SGC, which one of my morning wins bumped me up to.
04/08/07: Attended the quarterly tournament at UIC. Entered as a 2 kyu, won 3 out of 4 (compare with last week; a good night's sleep does wonders for your game). The only game I lost was against the only person I beat last week. Also, I won (by half a point!) while giving four stones to someone that I couldn't give 2 stones to last week. Still can't believe I won that one. I guess I'm only two stones away from shodan, but I still don't feel like I know anything about this game.
Bill: Don't worry. You'll still feel that way when you reach shodan. ;-)
04/01/07: Attended Iowa Cup in Ames, IA. Had fun, but I only won one of my four games (I thought I was entering at 2 kyu but I think they actually just had everyone at their official ranks-- which would be 3k for me). I'll chalk up my poor showing to a lack of quality sleep. On the plus side, I was counting in every game, and counting well.
A position from the one game I did win (I'm black, and I only meant to make a sente move against the group):

02/17/07: Attended first annual Cream City Classic in Milwaukee. Many thanks to Richard Hayes for putting it on. I self promoted to 4 kyu, and won 5 games with correct handicap (I played a 5 kyu, three 2 kyus, and a 10 kyu. Giving 6 stones is hard!). I lost two games-- the first one was a four stone game against the 5-dan (because he needed another game in the morning to make the playoff, I was available, and the max handicap for the morning session was 4). Shockingly, it was almost close; I almost managed to pull some stones out of the center in a capturing race. The second one I lost was even with a 3-dan (because I made the playoff). I had a chance to either try and save all of a group, or save half of the group, but I couldn't read it out-- I tried to save the whole thing because I was behind a little, and ended up losing it all. It was a blast; I guess AGA will promote me to 3 kyu now.
12/09/06: Quarterly Tournament at UIC: Entered at 5 kyu (my AGA rating). Didn't self promote to 4 kyu because of my prior results at that level, and because I haven't done any studying since then. Won 4 of 6 games, and the two I lost were due to inattention, so I think I might actually be 4 kyu for real, or maybe a weak 3 kyu. Also I'm playing quite a bit faster (as evidenced by being able to get 6 games in).
06/03/06: Quarterly Tournament at UIC: Entered at 4 kyu, just barely won 2 of the 4 games. Didn't really deserve to win one of the games; didn't really deserve to lose one of the games. Both of my lost games were (probably) lost due to time pressure, sadly. I'm probably a weak 4 kyu.
05/20/06: Des Moines, Iowa. Played as a 5 kyu. Won three, lost one-- second place in the top division! Lots of fun. I felt under time pressure for the whole time; I play too slow I guess.
03/04/06: "Survival of the fattest"-- quarterly tournament at UIC. Entered as AGA 6k, won 3 lost 1. Had fun. I definitely need to play with a clock... the first game went two and a half hours because I was reading everything too much (I won, though).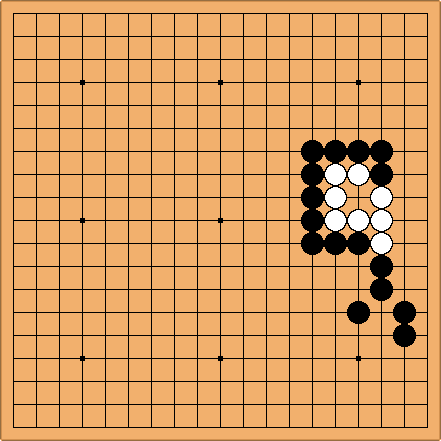 I left this for dead in the one game I lost-- but white managed to live. oops.
01/20/06: Road trip to Kalamazoo for a tournament. Entered at 7 kyu, won 2, lost 2. One of the losses was due to a stupid mistake, so it's probably safe to say I'm at least 7 kyu AGA. Not sure how that happened...
11/12/05: Road trip with some friends to Case Western Reserve University Fall Tournament in Cleveland, OH. Great fun. Self promoted to 8 kyu, but still won three out of four games, so it wasn't enough. The strength increase seems a little magical to me, as I haven't been studying much at all...
10/20/05: I can usually remember and replay at least 100 moves of any game I've just played. Very useful for talking about the game afterwards.
9/8/05: (I think that is the correct date) Won four out of five at the quaterly AGA Handicap tournament at UIC. Played at my AGA rank of 11k (at the time) 'cause I hadn't been practicing hard. Now AGA says I'm 10k. I am still under-ranked-- my games were all easy (20+ point wins). (The one I lost was because I mis-read a dead group as being in seki. I was ahead by 40 points if it had lived, but it was a 60 point group...)
3/6/05: Entered the quarterly AGA Handicap tournament at UIC as an AGA 12 kyu. Perhaps the two ranks of self promotion wasn't quite enough, as I won 5 out of 6 games. (enough for a prize, yay!) 8 hours of go is exhausting... A couple of those games were pretty intense...
1/23/05: Woohoo! Continued my winning streak (three games in a row and 6 out of the last 8). KGS bumped me up to 10 kyu! I'm one stone away from SDK status! (of course, without all the changes to the ranking system this would've been like 8 kyu probably. But I'm not bitter or anything... <grin>) Not a very satisfying win, though, as my opponant made very weird moves early on and I played carelessly as a result. I won by 40 something points but didn't really feel like I deserved it... :(
June 5th 2004: Chicago Tournament result: Entered as a 14kyu, had 3 wins and 3 loses. Yay!
December '03/January 04: started playing Go. KGS says I was 18k. I think with the rank deflation there that's like 24k or worse nowadays.
---
---
Rating (at the Schaumburg Go Club, so this is pretty much whatever I say it is but I'm pretty impartial, hehe):
---
Messages:
Leave me a message if you're really that bored.
Anonymous: Are the ranks on KGS still deflated and if so by how much. Also what is SDK status?
LukeNine45: As far as I know, the ranks on KGS have only gotten stronger, but I haven't played any online lately due to having no time. SDK = Single Digit Kyu
Aftermath: i am bored school sucks
LukeNine45: I agree on both counts. However, school is something of a necessary evil, and large swathes of life tend to be boring. Learning to make the best of those situations will make you at least two or three stones stronger at life...
DanHalver: Hey! Thanks for showing me the err in my laddder-breaking idea for the NetExample7! I didn't see it, though I am a beginner, but I feel stronger already thanks to you and your 1kyu wisdom : )
(So should I delete my pseudo-solution?)
LukeNine45: No problem, glad it didn't dampen your enthusiasm, hehe :) You should check out the Beginner Exercises if you haven't seen them already...
(You can leave it if you think it was instructive, or remove it if you want, move it to your homepage, or whatever)