BQM 82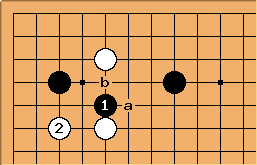 (Moved from kosumitsuke joseki and dereferenced)
Is this joseki? I thought I would ask. - kungfu
According to my collection of professional games,

is always answered at a (28 times out of 28 times this position occurred). Black b looks like the most interesting answer to

. - Andre Engels
Charles

has been played by Ishida Yoshio and Seo Neung-uk, but is hardly established joseki.
Bill: I got it from one of Ishida's books, which I have lost, at least for the moment. IIRC, he called it a new joseki. But maybe he just said that it was a baai no te.
phenomene : Ishida gives this variation in his famous Dictionary of Basic Joseki (vol. 1, p.157). He says : "I played this move on impulse, without having particularly studied it".
---
yes that is joseki up to 1, excluding 2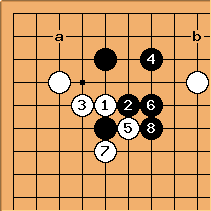 a and b can be next moves for black
BlueWyvern: Shouldn't the pincer stone be one space closer?