3-4 point high approach low extension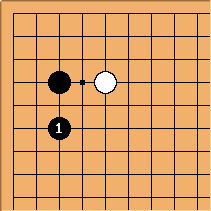 This is a Kitani joseki from the 1940s - though not exclusive to him. Black aims to make

a very solid stone.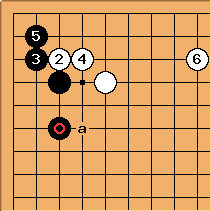 Up to

is standard. In this case

leaves no weakness behind (compare with the case of

at a). This is a tight way to play.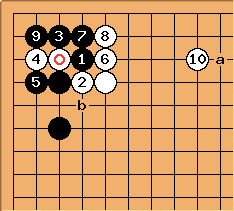 Unusually Black can also play

inside, as here. In this main line, played in 2001 in a number of pro games, Black takes a larger corner but White is thicker.
Dieter: AI thinks this is very favorable for Black. It prefers the so called trick play variation for White
xela: On general principles (ExtensionFromAWall) wouldn't

normally be at a? I found four pro games with this variation; two out of four had

at a. How would one choose?
Bill: The principle does not count the stone on the second line. The principle is based upon whether an unsupported invasion can escape or live. So the usual extension is to

. (With an extension to a I think that an unsupported invasion can live in gote, at the expense of a huge thickness for White.)
For

at b, see BQM186.
---


antic: Okay, but what if black plays like this? I played a in a game and got a very unsatisfactory result.
Bill: White would hate it if Black played atari at

, so

looks like a good play. It's a double attack, threatening

and

as well as

.
Bob McGuigan: The shape in this diagram is crosscut-like and in such a situation it is always useful to ask which of your crosscut stones needs the most help. It seems the white stone on the 3-3 point needs help, so extend its liberties, as

does.


Bill: Although the early play is different, in Kono Te Goyoshin (Watch out for these plays), 4-4 vol., Go Seigen shows this diagram and says that it is good for White. White aims at a or b.


Bill: It may be best to atari with

first to get Black to invest a stone with

. After

something has to give.


---
3-4 point high approach low extension, trick play
3-4 point high approach low extension, whole board
Question on the variations resulting when black plays 5 as another hane in the last sequence: BQM186