BQM142
Q: eng60340: Qn. Is

a mistake ? can white live in the corner ? Also. if

does not exist, is

still a mistake?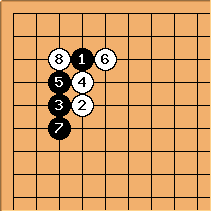 PurpleHaze:

is not joseki, so it is most likely a mistake, though it may be a very slight one. No, white can not live in the corner, though black may give him the corner to take outside influence. Study the Nadare joseki starting here, 8 occurs in the main line of the Large Nadare.
---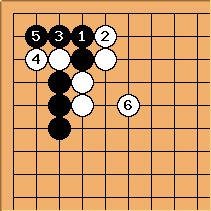 Dieter: Black has a big corner and influence to left and centre. White has influence along the top, but loses sente with

to patch up the cut in his shape (without which patch the whole exchange would lose meaning).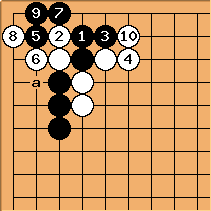 If White plays this way, she loses the corner too. She can't afford Black to play at

.

is tesuji preventing Black from having to crawl several times more along the second line.


---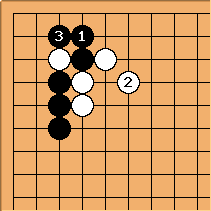 Bill:

is tesuji, aiming at the two Black stones and taking sente when Black takes the corner.
Usually this is not so good for White.
---