BQM 275
Unoptimal pro move?
Taken from a pro game: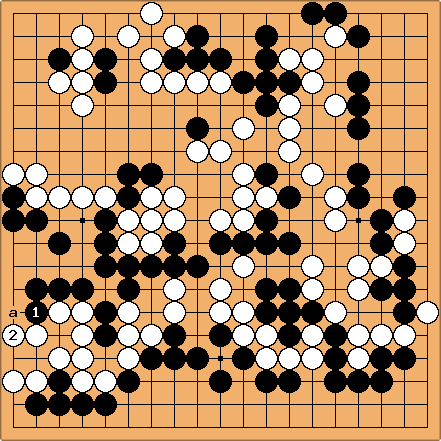 is required to secure life. However, doesn't a white move at a secure life and gain more points (by reducing black's territory)?
---
I think this has to do with endgame quirkiness which I don't understand. My analysis is that the original pro move has a sente (for white)-gote (for black) followup in the endgame, while my suggested move is gote (for white)-sente (for black).
---
However I still can't see why the pro choice is better than mine.
Agro1986 (16k KGS)
---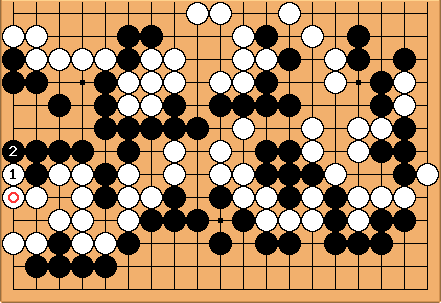 Bill: After playing sagari at

, White has the sente,

-

. (I expect this was actually played in the game.) That achieves the same local result as if White had played hane at

.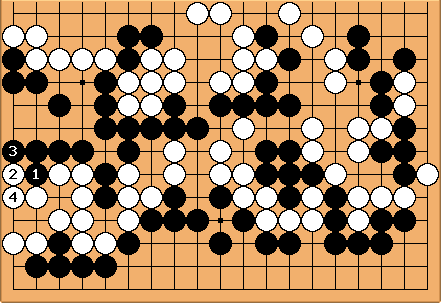 Bill: So it probably made no difference at all.
On the plus side for the sagari White has the sente as a possible ko threat. On the negative side, Black has the possibility of playing the reverse sente and picking up one point. If there are no kos or potential kos where White could use the threat, White should play the hane.

There is a potential ko on the top side, but one that is rarely played. White has the choice of whether to play the ko or not. If White never got to use the ko threat retained by the sagari, the sagari was probably a tiny technical error that made no difference in the game.
(A little later): I found the game and looked at it. No ko, but White played the sente soon afterwards. Slight technical error, but no difference.
---
Charles Matthews A less purist explanation: in byoyomi, this can give you the option of a two-minute think a little later.