BQM 493
In my games I started to play Mokuhazushi (5-3 point)just to try it out. I had some success with it and would want to know more about it. While the most common aproach is the 3-4 point, once I encountered this and didn't quite know how to answer: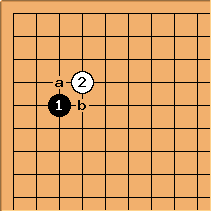 I thought that the two main alternatives are a and b but none of them really seems to punish

since b pushes w along the fourth line (isn't that bad?) and a just seems to take 3rd line territory in exchange for a white wall on the 4th line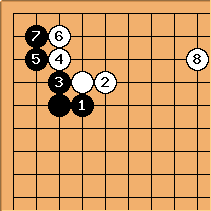 3-4 exchange seems forced, since I don't think continuing to push would be a good idea... and this exchange doesn't quite seem to punish w's shoulder hit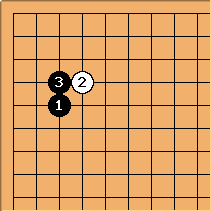 And couldn't W just tenuki after

leaving the shoulder hit as a forcing move and treat it lightly (and maybe use it later)?
---
so, my question as a 5k (KGS) is, how to best answer/punish the shoulder hit on Mokuhazushi?
---
unkx80: My quick answers here. Please feel free to ask for an elaboration.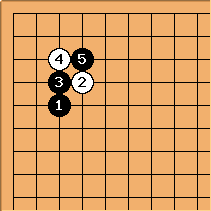 can cross-cut. No way White can get a good result here.
Looks to me like

should be at

. ~srn347
unkx80: Probably. Then

at

, the result don't seem too good for White either.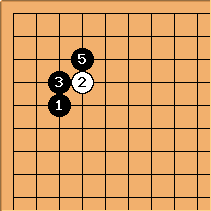 If

tenuki,

can either tenuki or play the hane at

. This is a pretty solid corner with definite territory.
Andy:

looks a little slack here though, so maybe tenuki is better?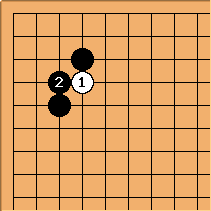 Actually the above is a transposition of the 3-4 point corner enclosure with the

and

exchange. This exchange is rarely good for White.
---
JoelR: This is an interesting discussion. I have some questions about the continuations given: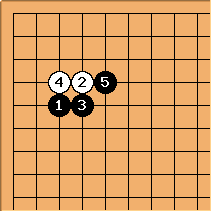 If Black plays for the side with

, is

playable? Yes, it induces a shoulder hit, but White might get a big corner, and Black might need to protect against cuts.
MrTenuki: This position is bad for White according to the six-kyu noseki page, though.