Joseki
Overview
Joseki are generally-agreed-upon sequences of play which can result in a fair outcome for both players. Usually there isn't a joseki in a given situation, but different joseki for different purposes, between which a choice has to be made.
The Chinese term for joseki means "settled pattern." The Japanese term, which uses the same initial character, literally means "settled stones." The Korean term uses the same Chinese characters meaning, in Korean usage, "right" / "proper" + "stone." What sequences are considered joseki has changed throughout history, due to modern research, innovation and changing professional perspectives.
If a sequence is not considered to be joseki, that may mean that the one side made a clear-cut mistake; that professional opinion considers the trade-offs inherent in the sequence (between sente and gote, between territory and influence, between speed and solidity) to favor one side; or that the situations where the sequence is needed are so rare that no one is familiar with the intricacies of the different branches of the sequence.
In general, "joseki" refers to sequences in the corner, and even more narrowly to the sequences that follow from approach moves in the opening. But while this is the most common use of the term, there are also joseki associated with straightforward reductions and invasions of the corner that occur later in the game, and common plays along the sides may also be considered "side joseki" or "middle-game joseki".
Joseki Reference
Sensei's Library has a comprehensive overview of Joseki. If you know which joseki you are looking for, then you can use the

position search page. You can also use the quick reference below to navigate through the main branches.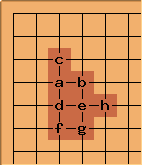 Discussion and References
There are many pages of discussion on SL and elsewhere about joseki. Here is a short list of starting points: