Nakamura Sumire
Nakamura Sumire (仲邑 菫, born 2nd March 2009) is a Japanese girl who became 1 dan professional of the Nihon Kiin through the newly created "Elite Special Qualification by Recommendation" at the age of 10 in April 2019, setting a new record for youngest pro in Japan. 3 dan in October 2022.
Her father is Nakamura Shin'ya 9 dan and mother is the elder sister of Ishii Akane 3 dan. Former insei of the Kansai Kiin in Japan and Yeongusaeng of the Hankuk Kiwon in Korea.
In 2021, she won the Kido Prize New Star, scoring 43-18 in the year.
In 2022, she achieved some respectable results in restricted tournaments: runner-ups in the Female Meijin and the Female Strongest, and win in the unofficial Discovery Cup.
In February 2023, Sumire won the quickplay Female Kisei at 13 years 11 months, becoming the youngest ever titleholder in Japan.
For recent news on Nakamura Sumire, see this post:

https://lifein19x19.com/viewtopic.php?f=13&t=16525
Please do not change this photo.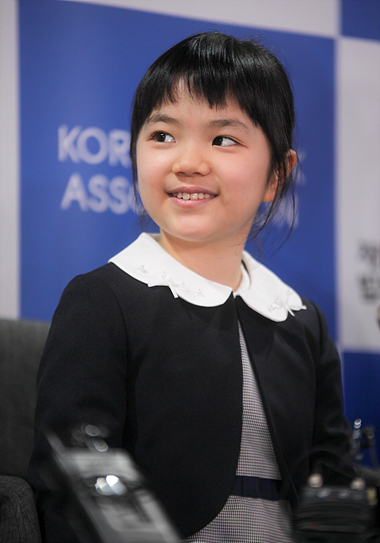 See more details at

https://www.lifein19x19.com/viewtopic.php?f=13&t=16349